A new survey by International Foundation of Employee Benefit Plans found employers expect plan costs to increase seven percent in 2024. As to why, they gave a range of answers, with the top four reasons representing 71 percent of responses (see chart below). As it happens, MedBen has proven self-funding solutions to all four.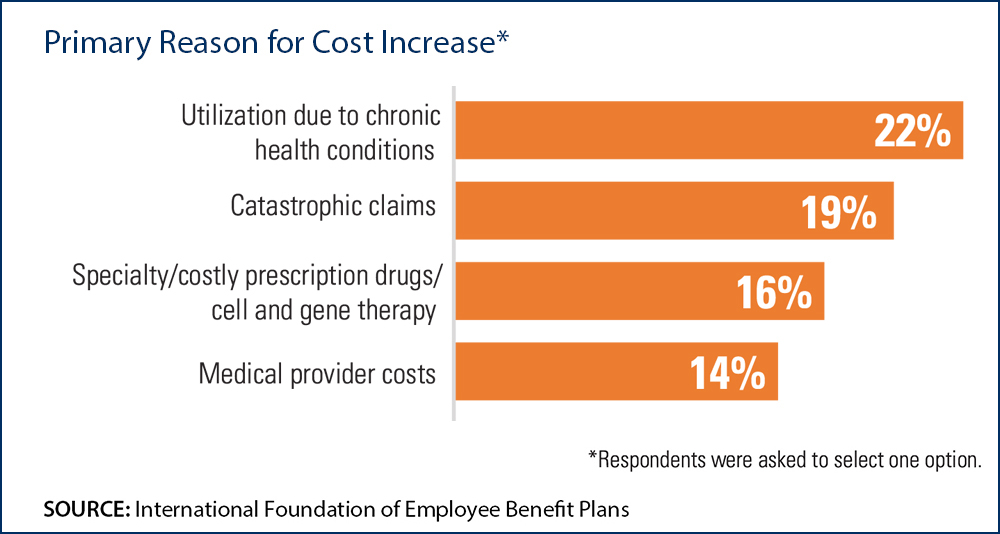 Utilization due to chronic health conditions (22% of respondents): MedBen WellLiving helps to reduce occurrences of chronic care – and their accompanying medical bills – by focusing on their prevention and early detection. This proactive approach to personal wellness saves WellLiving clients 5.8% on claim costs compared to non-WellLiving clients.
Catastrophic claims (19%): MedBen forensic claims review has saved clients tens of millions of dollars on high-cost claims. By bringing together skilled examiners, advanced surveillance, and board-certified specialists, we deliver, on average, an additional 49.2% savings on clinically reviewed claims, over and above PPO discounts.
Specialty/costly prescription drugs/cell and gene therapy (16%): MedBen Rx reduces or eliminates specialty drug costs for clients. We also have solutions that ensure you pay the lowest Rx prices available and match members with the right medications. On average, MedBen Rx saves clients 18% compared to their previous PBM.
Medical provider costs (14%): MedBen alternative reimbursement strategies cost-saving solutions include direct-to-employer contracting and reference-based pricing that outperform traditional PPO plans by an average of 20.9%. Recently, we introduced Fair Market Pricing that uses annualized market data to save clients 67% on average.
Of course, these are hardly the only solutions that MedBen has to counter higher medical bills and rising inflation. We recently compiled an Inflation Hedge Checklist with strategies to reduce risk and lower costs without sacrificing benefits… take a look and if there's any service you'd like to know more about, call us at 888-627-8683.